ALLTOP High Power Home Solar Power System Solar Panel
Short Description:
ALLTOP High Power Home Solar Power System Solar Panel
1. High efficiency. Polysilicon solar cells with high transmittance and textured glass can provide up to 16.5% module efficiency.
2. The technology provides ultra-high efficiency and maximizes the installation capacity in a limited space.
3. Enhanced weather resistance: avoid the micro-cracks of the cell caused by the traditional welding process; the module is flexible and compressive; suitable for all harsh environments.
4. Reduce system cost: The module has high efficiency, which effectively reduces floor space, BOS, transportation and maintenance costs.
5. Strong compatibility: It can be equipped with a variety of mainstream high-efficiency batteries.
FOB Price: US $0.5 - 9,999 / Piece
Min.Order Quantity: 100 Piece/Pieces
Supply Ability: 10000 Piece/Pieces per Month
Product Detail
Product Tags
ATP-60M / ATP-60P

Maximum Power(Pmax)

260W

265W

270W

275W

280W

Open-circuit Voltage (Voc)

38.1V

38.3V

38.4V

38.5V

38.7V

Optimum Operating Voltage (Vmp)

30.6V

30.8V

30.9V

31.1V

31.4V

Short-circuit Current (Isc)

9.01A

9.10A

9.18A

9.25A

9.34A

Maximum Power Current (Imp)

8.50A

8.61A

8.74A

8.85A

8.92A

Module Efficiency (%)

15.90% ~ 18.28%

Power Tolerance

0~+5W

Standard Test Environment

Irradiance 1000W/m2, Cell Temperature 25℃,Spectrum AM 1.5

Operating Module Temperature

-40 °C to +85 °C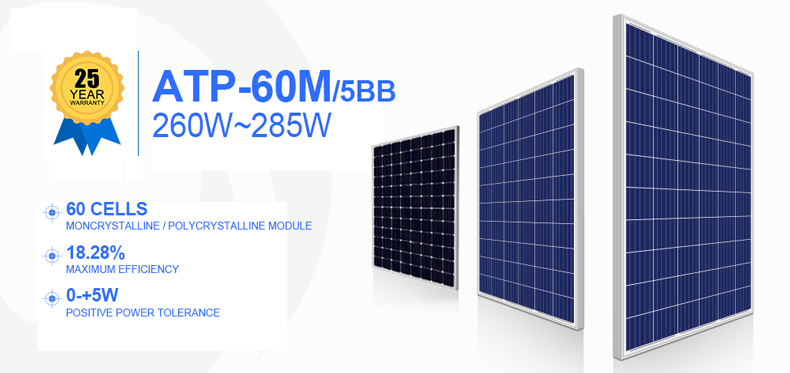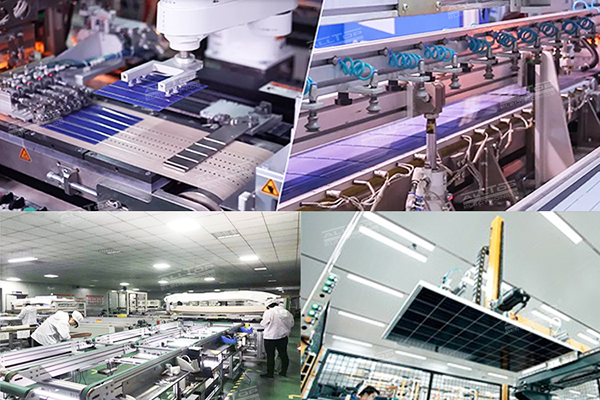 High-quality solar panels
1. Strict quality control meets the highest international standards.
2. High light transmittance and low iron tempered glass, strong aluminum frame uses UV resistant silicon.
3. Based on innovative photovoltaic technology, beautiful appearance and high efficiency.
4. The high-quality, sturdy aluminum frame has passed the mechanical load test of 5400 Pa and the wind pressure test of 2400 Pa.
A Wide Range of Applications
Independent systems(household,powder supplies for remote areas, remote systems, ete.)and grid-connected photovoltaic power stations(residential,commercial, industrial power supply systems)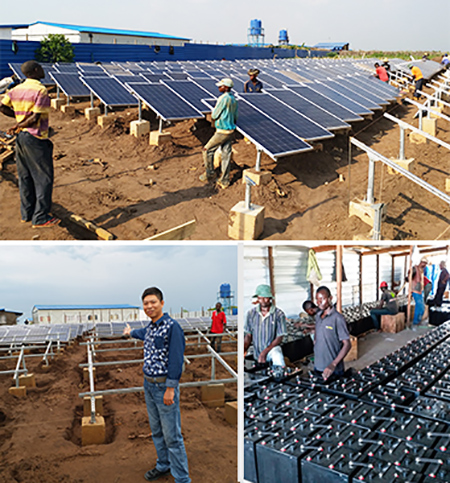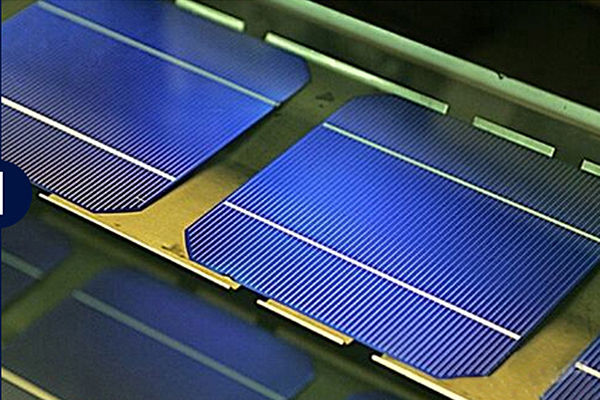 1.5BB, 6BB, 9BB Availablec.
2.High output-power: conversation efficiency is 18%-22%.
3. High shunt-resistance: adapt the several environmental conditions.
4.Bypass diode minimizes the power drop by shade .
5.Excellent low light effect .
6.Low breakage rate.
Reliability of an independent laboratory
1. Fully comply with certification and regulatory standards.
2. Withstand wind loads up to 2.4KPa and snow loads up to 5.4Kpa. Confirm mechanical stability. Successfully withstand the highest exposure severity levels of ammonia and slat fog. Ensure its performance under adverse conditions.
3. The junction box and bypass diode ensure that the module will not overheat and hot spots.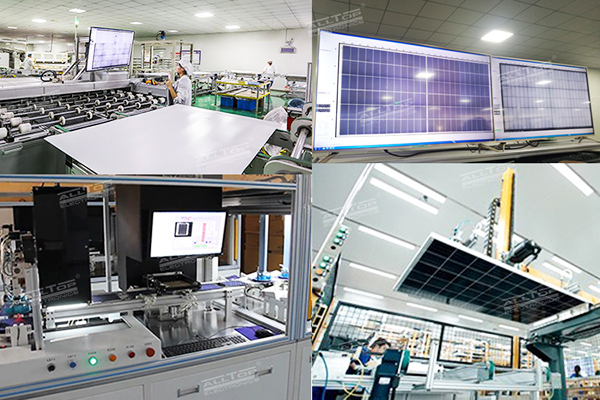 ---
Previous:
Factory Supply Solar Light Energy - ALLTOP 2022 30w Warehous Fixture Pendant Lamp Powered Led Solar High Bay Light – Alltop
---
Related Products