Alltop IP65 Waterproof Wall Outdoor Solar LED Wall Light
Short Description:
Alltop IP65 Waterproof Wall Outdoor Solar LED Wall Light
[Durable & IP65 Waterproof] The outdoor solar light uses high-quality ABS material and IP65 waterproof design. It has various characteristics such as heat resistance and cold resistance. Even in severe weather such as rain and snow, the solar wall lamp will not dim and fail.
[Energy saving and environmental protection] Since the solar lamp is fully solar powered, it not only saves money, but also protects the environment. After being fully charged, it can provide up to 20-24 hours of lighting, which is brighter than similar two LED solar lights on the market and is absolutely safe.
[Auto working mode] The outdoor solar light has a built-in automatic light sensor function, and the solar walkway light is automatically turned on at night and turned off during the day. It is very suitable for illuminating stairs, paths, decks, gardens, lawns or decorating your home. It is a good choice for Thanksgiving, Halloween, and Christmas.
FOB Price: US $0.5 - 9,999 / Piece
Min.Order Quantity: 100 Piece/Pieces
Supply Ability: 10000 Piece/Pieces per Month
Product Detail
Product Tags
Brand Name
ALLTOP
Model
0976A06-01
0976B08-01
 LED Lamp
2835 LED Chip 6000K 28PCS, 3000K 2PCS
2835 LED Chip 6000K 36PCS, 3000K 2PCS
 Solar Panel
5.5V 2.6W, Polycrystalline
 5.5V 3.4W, Polycrystalline
 Battery Type
Lithium-Ion 3.7V 2.5AH
Lithium-Ion 3.7V 4.8AH
Product Size
213*140*112mm
213*179*112mm
Install Height
2-4m
2-4m
 Charging time
   6-8 hours
 Discharging time
20-24 Hours
 Material
ABS+PMMA
 LED
160lm/w
 Warranty
3 years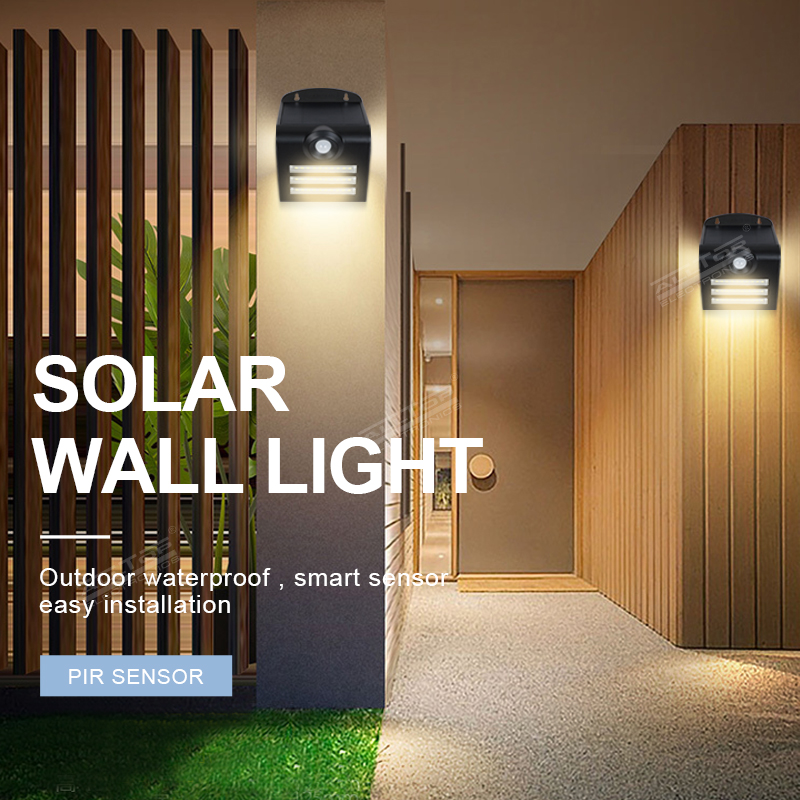 1. The LED solar wall light is made of white plastic and can be installed on a sunny outdoor wall.Solar powered, built-in replaceable lithium battery.
2.Unique design a V shape, very modern and fashionable.
3.Solar powered, zero electrical cost, a best partner for your green life.
4.LED outdoor garden solar wall light with PIR Motion Sensor Modes.
Using advanced microwave sensor technology, the sensitivity is higher and the brightness is automatically optimized. The built-in microwave sensor can automatically adjust the brightness by recognizing the surrounding moving objects, increase the brightness when the object approaches, and decrease the brightness when the object leaves.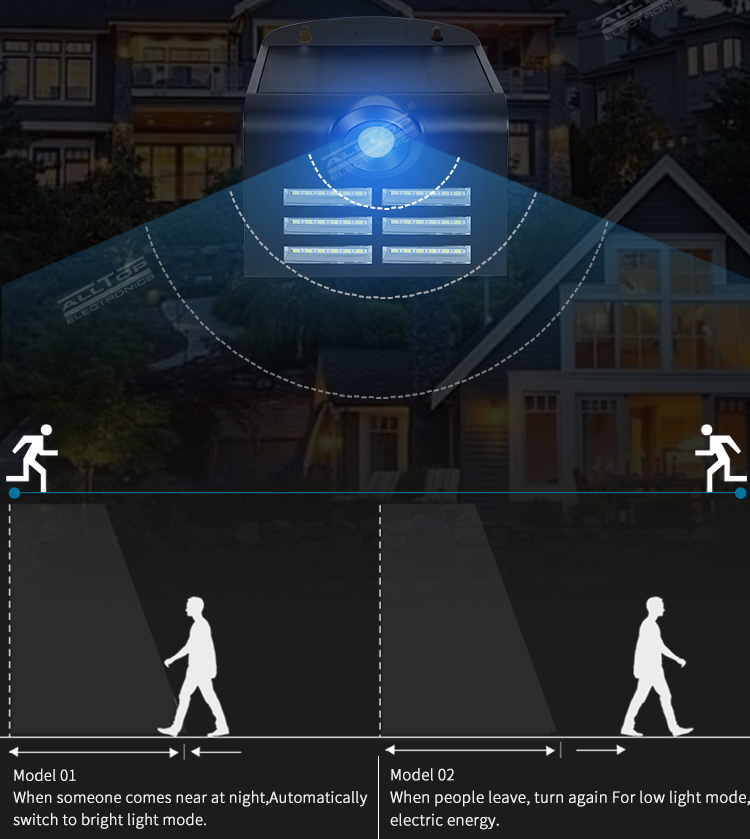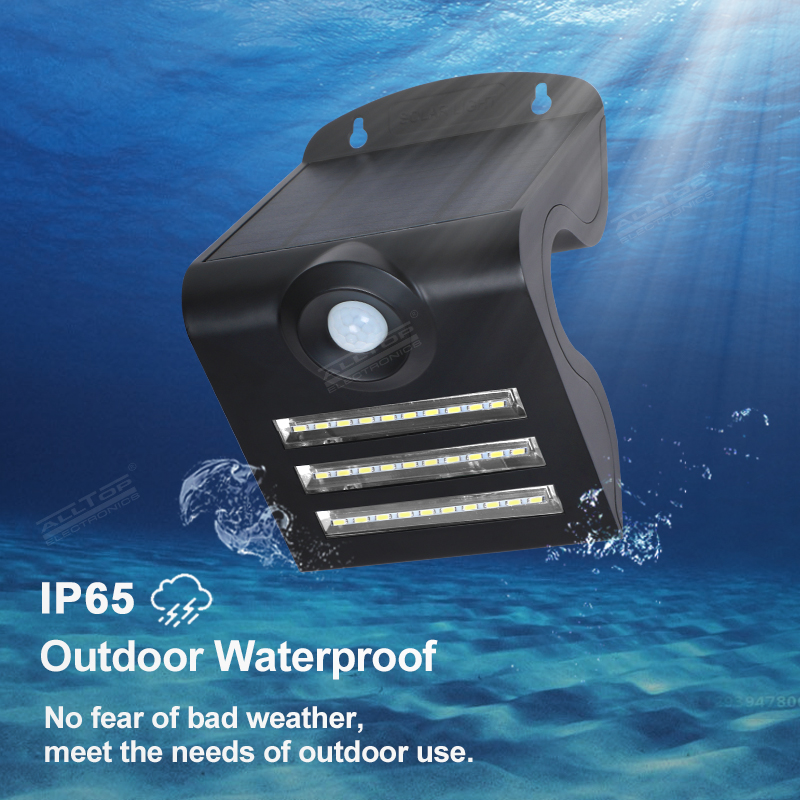 IP65 waterproof and durable
Outdoor solar wall light uses high-quality ABS, waterproof, high temperature resistance, long service life, and supports IP65 waterproof. Outdoor solar wall lights can withstand most weather conditions, such as sunny, rain, frost and snow, and are suitable for multiple seasons. Outdoor solar wall lights are very suitable for installation on fences, steps and decks.
High-quality solar panels
1. High photoelectric conversion efficiency and high reliability
2. Advanced diffusion technology ensures uniformity of conversion efficiency throughout the sheet
3. Ensures good conductivity.
Monocrystalline silicon is generally packaged in tempered glass, which is durable and has a long service life.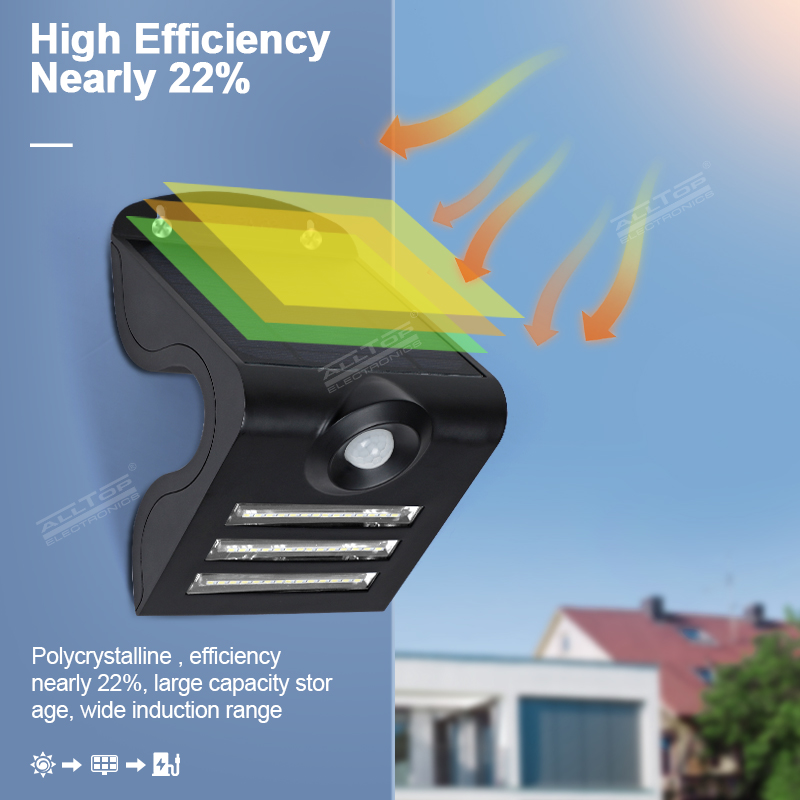 ---
---
Related Products